Wayne's Message
The impact of Kevin's life, of anyone's life, is measured not by what we leave this world with, but rather what we leave with this world to enrich the lives of others. I cannot say, "it is finished," because Kevin's legacy lives on. When a loved one dies we have two choices: We can withdraw and choose to be bitter, or take the high road and move forward to answer a higher calling. The latter is the road I have taken.
Kevin left gigantic shoes which no one can fill. His faith, courage, and tremendous will to live while battling cancer touched thousands of lives. His race is run, but the good that he did lingers. His life, his battles against cancer are now an open book, testifying to the impact that Jesus Christ had in his life. Christ sustained him and saw him through to the end. Kevin's mission while on earth was to let others see Jesus in him. Kevin fulfilled that mission. His life was and is a testimony to the awesome power of Jesus Christ in one young man's life. The Comforter was with him. Kevin never walked alone.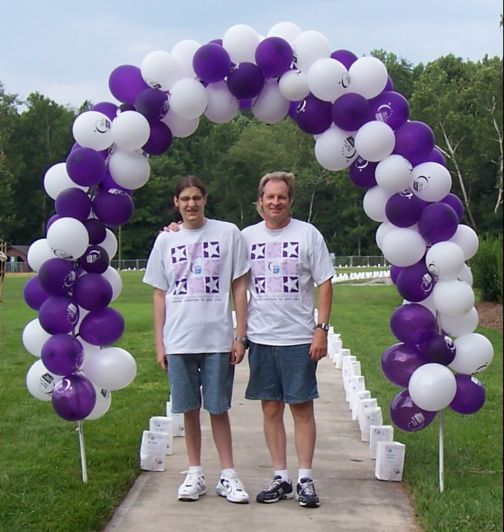 The M. D. Anderson Children's Cancer Hospital in Houston, Texas, held a beautiful memorial service in memory of young cancer patients who had recently passed away including Kevin. Dr. Pete Anderson, Kevin's doctor, shared comforting opening comments. Photos of each patient were displayed and candles were lit in their honor. I was able to attend the touching April 2007 ceremony while there for my thyroid recheck. I was given flowers and a pendant created by a cancer patient. Each time I look at my black and blue M. D. Anderson tote bag, I'm reminded of the many times over sixteen months that I packed it full of medicine, tissues, barf bags, and water, hung it over his wheelchair handles, and pushed Kevin nearly a half mile from our hotel room to the clinic.
The 2007 Wilkes Relay for Life was dedicated to the memory of Kevin and Marsha Sidden, and saw its greatest year ever in contributions to fight cancer. I carried the banner in his honor. Kevin had been a team sponsor, a guest speaker, and an inspiration to hundreds of cancer survivors.
Kevin's memorial monument which I designed is truly unique with etchings of Kevin, color photos, scripture, and bears his personal quotes championing his tremendous faith in Jesus Christ. It is a testimony and witness which speaks to anyone walking by and pausing to read.
Kevin loved the youth of his church, and an acrylic podium with an inscription honoring him has been given to the youth ministry for their worship center. It includes an etching of his guitar, which highlights just one of his contributions to worship and service to his Lord.
The Kevin Wayne Triplett Memorial Scholarship has been established, and this past spring a deserving senior at West Wilkes High School was presented a check for one thousand dollars to further his education. It was a touching moment as the young man embraced me and Kevin's mother in appreciation. This scholarship will be given annually with proceeds from the sale of this book benefiting this fund.
Funny how the mind works. I have been pondering the significance of the number seven (7) in Kevin's life. That number is commonly referred to as God's number. Kevin was born on December 7, was diagnosed with cancer in the seventh grade, owned seven guitars, had seven major surgeries, had cancer therapy on the seventh floor at MDA, made seven flights to Houston flying over parts of seven states, battled cancer almost seven years, and passed away on November 27. Coincidence, maybe, but we know that God was at work in his life in a mighty way.
The writing of this book fully establishes the impact Kevin's life had on so many. He just wanted to live a normal life, but when cancer was thrust upon him, he found himself taking on the full armor of Christ to endure his many trials. He never asked for notoriety. It just happened. I knew his story would be an inspiration for others to carry on, even in the face of overwhelming odds.
A gaping hole is left in my life where Kevin once was. His absence at times is heart wrenching, but it has also fueled my desire to pick up the gauntlet Kevin left behind. In passing the torch to me, I must run with it. He is forever with me—in his memorial garden in my front yard; in my visits to his grave; in the quietness of the morning, as I sit in his front porch rocking chair and listen as birds begin their daily ritual of singing; in the music collection he left behind; and, in the changed and enriched lives of those who knew him.
Those touched by Kevin declare the impact of his life on theirs:
"I will never forget him."
"I'll never be half the man Kevin was."
"He really inspired me to pattern my life after him."
"Kevin's life just makes me want to live for Christ."
"What an inspiration he was for me, just keep on going."
"Few people have had an impact on my life like Kevin had."
"You made me want to be a better person and a better Christian."
"Let your light so shine before men, that they may see your good works, and glorify your Father which is in heaven."
Matthew 5:16
Kevin said it best as we revisit his "Life's Most Important Things." It is my hope that this book has given you a more personal glimpse into this remarkable young man's life; a glimpse into a life well lived; a glimpse into a life that mattered. I say that with pride as his dad. I say that with conviction, because others have voiced those sentiments as well. Although we grieve in his absence, we rejoice in the realization of his ultimate healing, now that he is with his Savior. I look forward with anticipation to the day I will be reunited with him.
May your life be enriched, may your faith be strengthened, and may you find renewed joy in living, since Kevin passed your way.