Testimony
October 2003...Kevin's Praise Team Testimony...Millers Creek Baptist Church Gym
Hello. My name is Kevin Triplett, and I'd just like to take a few minutes to share a word of testimony with you about my salvation experience, and how God has just blessed my life and just is my strength. Back in 1999, I was twelve years old, and I'd been going to church here for a little while. I knew I was a sinner, and the conviction of the Holy Spirit was on me to get saved. I wanted to get saved, but I was afraid to go up to the altar because of all the people in the congregation just kind of scared me. I believed in Jesus, that He was God's Son, that He died for my sins, and that He rose again. I knew I was a sinner,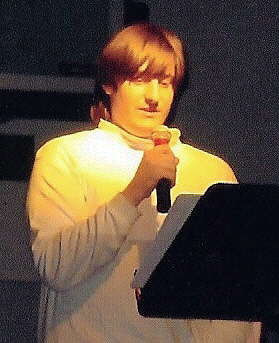 and I wanted to get saved, but I was just afraid to take that step of faith and just commit to it. I was at my grandparents' house one day, and we were all in the living room talking. We were talking about church and God. I told them how God was dealing with me, and I wanted to be saved. My grandpa told me it was between me and the Lord and not to be afraid. They encouraged me and got me "unscared" you might say. After that, I told my dad about it, and he took me to see Pastor Gore. In his office, he presented the Gospel to me. I prayed a prayer of salvation and invited Jesus into my life. That's the greatest thing I have ever done.
Not too long after that in the year 2000 in April, I was diagnosed with cancer. I guess you could say that was a tragedy. God has helped me through it. Even though it's bad to have cancer, it has brought me closer to Him. They told me this week they saw a couple more spots on my lungs. It's not too good, but I'm not really that concerned about it, because I know that God is in control. It just gives me comfort, because I know that when I die, I'm going to be with Him.
God has been real to me this week. I've been trying to seek Him and get hold of Him. He has just given me comfort every time. It's just a joy, when you've got Jesus in your heart. He's with you, and He's not going to leave you. He brought me through this cancer. I praise Him for that. If anybody is sore with any kind of problem, spiritual or physical or just any kind of problem, just get on your knees and talk to Him about it. Read His Word, and claim His promises, He'll see you through. I just love Him. I just praise Him for what He has done in my life, and what He's doing, and what He ultimately will do. I just keep on going, keep trusting, and keep believing. It's kind of like that song says, it gets sweeter as the days go by. Thank you for your time. Just know that God is in control. If there is anybody out there that doesn't know Him, tonight is the night. It would be a good night to come to Him, if He is drawing you. You know, today is the day of salvation. It's just great living.